BUSINESS CLASS TAROT began as fiction!
The Demon in Business Class is a hybrid of urban fantasy and corporate thriller, set across North America, Europe, and Asia-Pacific.
In crisp, edgy language, Demon is a big novel about our globalizing world and the ancient dreams and fears it awakens in us, even as we build it.
Demon launches a new illustrated edition, with a striking new cover, and including 9 images from Business Class Tarot, beginning on April 30 2020. The new edition will be available in paperback, hardback, ebook, and audiobook.
At this time the sites are rolling out. When everything is settled, this page will have direct links, but for now, please visit https://anthonydobranski.com/buy-dbc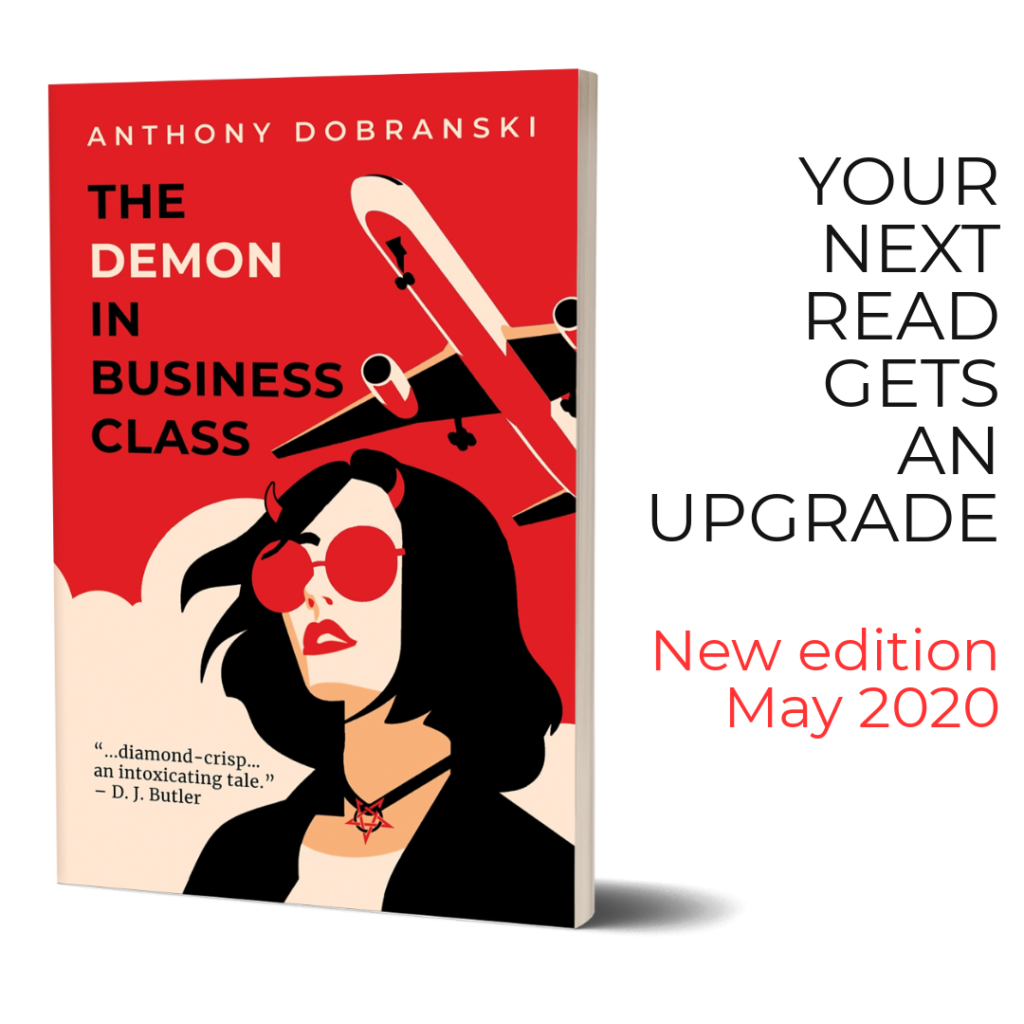 She can speak all languages. He can smell evil intent.
They're enemies. They crave each other.
A shady powerbroker forces Zarabeth Battrie into a secret plan to start the next global war, giving her a demon that lets her speak all languages. But the people now trying to kill Zarabeth might know more about her job than she does.
With international settings, a conspiracy plot, star-crossed lovers, and sharp writing, The Demon in Business Class is a sharp, stylish modern fantasy spanning continents and genres.
A shady executive hires Zarabeth Battrie to help start the next global war, giving her a demon that speaks all languages. But other people know more about her job than she does…
A resolute investigator recruits Gabriel Archer to use his emerging psychic powers, for a visionary leader who turns others from evil. As his senses develop, his doubts grow…
When the two meet by chance in Scotland, passion becomes fragile love, until the demon's betrayal drives Gabriel away. Before Zarabeth's revenge destroys the visionary's plan, Gabriel must stop her — for both to survive, neither can win.
Fans of Jeff VanderMeer, David Mitchell and Michel Faber will love this cross-genre novel with crisp literary style. The Demon in Business Class is an international story of fantasy, intrigue, and love, on the uneasy ground where the human meets the divine.
YOUR NEXT READ IS NOW BOARDING – Buy it now!
"If William Gibson wrote paranormal …. weaves the dark worlds of the occult and big business into an intoxicating tale." – D. J. Butler, author of Witchy Eye
"Creative spark? Anthony Dobranski ignites a creative bonfire …A masterwork of invention." – Mary Kay Zuravleff, author of Man Alive!
"A swank cocktail of international intrigue, steeped in the supernatural, mixed with literary flair …. so sleek it flies off the page." – Zach Powers, author of First Cosmic Velocity